Hospitals

651 Dunlop Lane
Clarksville, TN 37040
931-502-1000
Hospital Information
270 licensed beds
200 Physicians
1,100 hospital employees
Accredited by The Joint Commission
Mission, Vision, Values
Mission
Gateway Medical Center will provide a full range of quality, convenient, cost effective and compassionate health care services. We promise to deliver these services in a safe, healing environment and in a manner that exceeds the expectations of those we serve.
Vision
Gateway Medical Center will be recognized as the medical center of choice by the communities we serve.
Values
Service, Excellence, Versatility, Integrity, Compassion, Empathy
Specialties
Anesthesiology
Bariatric Surgery
Cardiology
Dermatology
Emergency Medicine
Family Practice
Gastroenterology
Emergency Medicine
General Surgery
Hematology
Infectious Disease
Internal Medicine
Neonatology
Nephrology
Neurology
Obstetrics/ Gynecology

Oncology
Ophthalmology
Oral/ Maxillofacial Surgery
Orthopedics/Surgery
Otolaryngology
Pediatrics
Plastic Surgery
Podiatry
Psychiatry
Pulmonology
Radiation Oncology
Radiology
Rheumatology
Thoracic Surgery
Urology
Vascular Surgery
Wound Care
Services
Gateway is proud to offer programs, services and facilities that rival the best in the state. Visit our services page to learn more.
Community Involvement
Gateway employees are committed to making a difference in our community. From our staff and physicians' personal roles in assisting charities, to our medical center's financial contributions to local events and civic endeavors, Gateway is proud to stand out as a community leader.
Visitors
Visiting Hours:
Family members and friends of our guests are welcome to visit at Gateway Medical Center. We ask that they observe the following visitation schedule:

General Areas
9 a.m. to 9 p.m.*
Critical Care
9 a.m., 1 p.m., 5 p.m., 8:30 p.m.*
(Visits limited to 30 minutes)
Stepdown
9 a.m., 1 p.m., 4 p.m., 8 p.m.*
(Visits limited to 1 hour and 3 visitors)
Family Birth Center
9 a.m. to 9 p.m.**
* No visitors under age 10 are allowed on the second floor and during RSV season, no children under the age of 4 are allowed in any patient care area.
** Family Birth Center : One designated adult may stay with mom 24-hours a day (children are not allowed to stay overnight). Other family and friends may visit from 9 a.m. - 9 p.m. Children under the age of 12 are not allowed to visit unless they are siblings of the newborn. In order to help protect our youngest patients, our Family Birth Center will have the following visitation guidelines in effect during the RSV, Cold and Flu season (October – March). Labor & Delivery: Siblings of the baby who are 4 years and older may visit in the patient rooms. All other visitors must be at least 12 years old. Postpartum: Siblings of the baby who are 4 years and older may visit in the patient rooms. All other visitors must be at least 12 years old. When conditions allow, patients may visit with their children who are under the age of four in the 3rd floor lobby. Neonatal Intensive Care Unit: Siblings of the baby who are 12 years and older may visit.
Wi-Fi Access:
Gateway Medical Center is pleased to offer free Wi-Fi access throughout our hospital. Connecting is quick and easy. Activate wireless networking on your laptop or mobile device and select Hospital Guest Wireless Network . Launch any web browser and click agree on the Terms & Conditions page.
Hospital Map:
Click here to download a map of Gateway Medical Center
Location:
Gateway Medical Center is located at 651 Dunlop Lane, Clarksville, TN 37040. For a list of frequently dialed phone numbers please visit our Contact Us page.
Patient Safety:
At Gateway, we want to work with you in planning and providing quality care in a safe setting. You as a family member or significant other can help keep the patient safe and accident free during their stay in our hospital. If you would like to learn how, click here to download our Fall Prevention Guide or our Speak Up and Be a Part of Your Care Manual.
Dining Options:
Our cafeteria is located on the first floor near the Main Lobby. It offers a wide selection of hot entrees, fresh salads and deli-style sandwiches.
Cafeteria Hours: Breakfast: 6 to 9:30 a.m. (6:30 to 8:30 a.m. Saturday & Sunday) Lunch (Cafeteria Line): 11 a.m. to 2 p.m. Lunch Grill: 11 a.m. to 3:30 p.m. Dinner: 4:30 to 6:30 p.m. Late Night: 1 to 2:30 a.m.
Vending machines are also available in the dining room which is open 24-hours a day.
Smoking Policy:
As a healthcare leader, Gateway enforces a smoke-free environment. Starting in our parking lots, all Gateway properties are smoke-free. Thank you for respecting these guidelines.
Pastoral Care:
If you need a moment for quiet reflection or prayer, feel free to visit our chapel. Located on the first floor near the main lobby, it is open 24 hours a day to patients, family members and visitors. Devotional literature is available in the chapel and waiting areas. For those needing spiritual support or counseling, one of our volunteer chaplains is available on a 24-hour basis. At your request we will be glad to assist you in contacting your minister or church. For more information please visit our pastoral care page.
Medical Records:
Our Medical Records department is located on the first floor of the Medical Center and can be reached at 931-502-1666. Office hours are Monday-Friday 8 a.m. to 4 p.m. For more information about health records please visit www.myphr.com.
Patient Responsibilities
We believe that patients who understand and participate in their treatment achieve better results. Please take a moment and familiarize yourself with your rights and responsibilities as a patient.
You have the right to :
Know the risks, benefits and alternatives to proposed treatments or procedures
Choose the physicians or other clinicians who will be providing care or treatment, as well as have information about them
Receive information in easy to understand terms that will allow for an informed consent or refusal of the treatment or procedure
Privacy regarding medical care
Participate in the plan of care
Formulate advanced directives and have staff and practitioners comply with those directives
Reasonable responses to reasonable requests of service
Leave the medical center against the advice of the physician
Examine and receive an explanation of the bill for services regardless of the source of payment
Select providers of goods and services after discharge
Receive a Notice of Privacy Practices
Request privacy protection
Access protected health information in a reasonable time frame
Amend protected health information
Request an accounting of disclosures of protected health information
Be free from any forms of restraint or seclusion as a means of convenience, discipline, coercion, or retaliation
The least restrictive restraint or seclusion should be used only when necessary to ensure patient safety
Receive care in a safe environment, free from all forms of abuse, neglect, harassment and/or exploitation
You have the responsibility to :
Provide accurate and complete information concerning your present medical condition, past illnesses or hospitalization and matters concerning your health
Tell your caregivers if you do not completely understand your plan of care
Follow the caregivers' instructions
Follow all medical center policies and procedures while being considerate rights of other patients, medical center employees and medical center properties
You also have the right to :
Lodge a concern with the state, whether have used the hospital's grievance process not. If you have concerns regarding the quality of your care, coverage decisions want to appeal a premature discharge, the State Quality Improvement Organization (QIO). Contact information for the state our QIO is located on the insert at the this booklet.
Regarding the problem resolution, you have the right to:
Express your concerns about patient care safety to hospital personnel and/or management. If your concerns and questions can not be resolved at this level, contact The Joint Commission at 1 (800) 994-6610, by Fax at (630) 792-5636, by e-mail at complaint@jointcommision.org , or by mail at:
Office of Quality Monitoring
The Joint Commission
One Renaissance Boulevard
Oakbrook Terrace, IL 60181
Virtual Tours
Extended Stay $39.95
Stay for 7 days or more and get a low rate of $39.95 per night on Standard Rooms. Refunds are at $69.99 per night adjustment. $20 per adult if more than 2 in a room.



Stay 2 get 3rd Free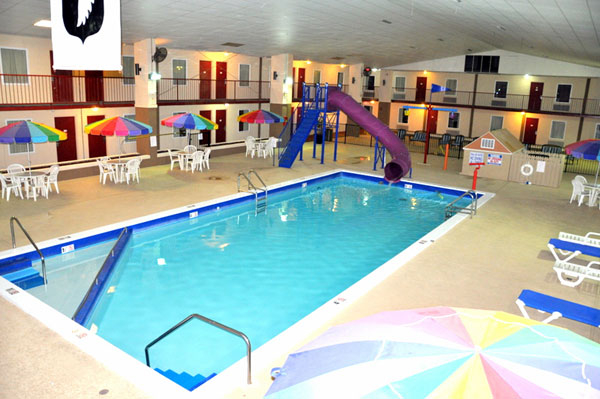 Pay for 2 nights and Stay for 3! Free night applies to least expensive night. Limited Time.



Midweek 8% off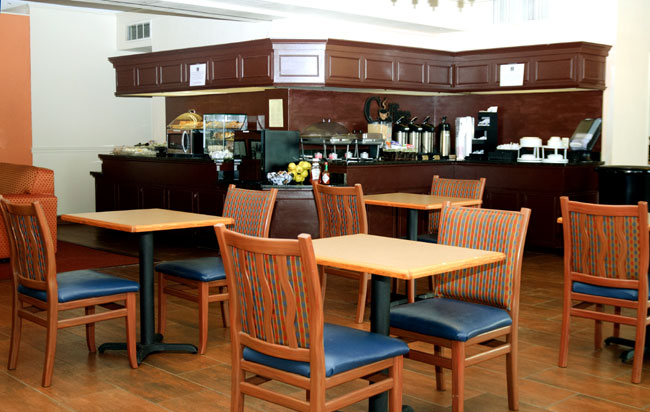 Stay midweek off each night with a 2 night minimum nights stay. Higher rates on weekends. Limited Time.