University

601 College Street
Clarksville, TN 37044
1-877-861-APSU
(931) 221-7011
gov@apsu.edu
Mission Statement
Austin Peay State University is a comprehensive university committed to raising the educational attainment of the citizenry, developing programs and services that address regional needs, and providing collaborative opportunities that connect university expertise with private and public resources. Collectively, these endeavors contribute significantly to the intellectual, economic, social, physical, and cultural development of the region. APSU prepares students to be engaged and productive citizens, while recognizing that society and the marketplace require global awareness and continuous learning. This mission will be accomplished by:
Offering undergraduate, graduate, and student support programs designed to promote critical thinking, communication skills, creativity, and leadership;
Expanding access opportunities and services to traditional and nontraditional students, including the use of multiple delivery systems, flexible scheduling, and satellite locations;
Promoting equal access, diversity, an appreciation of all cultures, and respect for all persons;
Serving the military community at Fort Campbell through complete academic programs;
Providing academic services that support student persistence to graduation;
Fostering a positive campus environment that encourages active participation in university life; and
Developing programs (credit and noncredit), conducting research, and providing services that contribute significantly to the quality of life, learning, and workforce development needs of the region.
Vision Statement
APSU's vision is to create a collaborative, integrative learning community, instilling in students habits of critical inquiry as they gain knowledge, skills, and values for life and work in a global society.
Prospective Freshmen
Austin Peay offers the resources of a major university, with a small college feel. You'll get to know people quickly - including your professors. That one-on-one communication is just part of the friendliness that makes Austin Peay a comfortable place to be.
Large enough to offer you a broad range of educational and social options, but small enough to treat you like an individual.
Discover more about what Austin Peay has to offer you!
Learn on campus. Learn online. The choice is yours.
Need Help?
Chat with an APSU Admissions representative LIVE.
With more than 3,000 adult learners, we understand what it takes to balance work, family and classes. That's why we offer...
Evening classes
You can take evening classes on our main campus or at our satellite campus, the Austin Peay Center @ Fort Campbell .
Online degrees
Choose from online associate, bachelor's or master's degree programs. Find out more information on all of our online degrees .
Online classes
Each semester, we offer hundreds of online classes. Many of our students take a mix of online and on-campus classes, creating the class schedules that work best for their lives.
A degree completion program
We can apply credits you've earned at other institutions toward a bachelor's degree in professional studies. You can finish your degree online or on campus in as few as 14 months! Find out more information about our professional studies degree , or contact Dr. Robyn Hulsart, assistant professor of professional studies, at HulsartR@apsu.edu or (931) 221-1439.
Accelerated terms
Forget 16-week semesters. at the Austin Peay Center @ Fort Campbell , terms last just eight weeks. Five terms – Fall I, Fall II, Spring I, Spring II and Summer III – are offered each year. Located just 10 miles from the main campus, the Center is open to civilians and military personnel.
Ready to get started? Click here for admission information . To talk with an admissions counselor, call (800) 844-APSU or e-mail admissions@apsu.edu .
Basic Graduate Admissions Requirements
Submit an application for admission to graduate school by the University's Academic Calendar application deadline date.
Pay the non-refundable $25 application fee.
Submit official copies of transcripts from all colleges attended and showing completion of Bachelors degree.
Official scores for the GRE, GMAT or MAT exams. Consult the graduate admissions exams to determine which exam you should take.
3 letters of recommendation, which should be written by former or current college professors and university instructors that can verify your capability to perform at the graduate level. All letters of recommendation must be signed by the recommender.
Fulfill any additional requirements established by the program.
Steps to Graduate Admissions
Follow these steps to begin the admission process if (1) you already have earned a bachelor's degree, (2) meet the admission requirements for your program of choice AND (3) intend to complete your master's degree at APSU. To determine if you meet program specific requirements, please review our special admission requirements . If you have any questions, please contact Graduate Admissions at admissionsweb@apsu.edu or (931) 221-7662.
Step 1
Learn about specific program admission requirements .
Step 2
Submit the online application for admission or contact us at Admissionsweb@apsu.edu or (931) 221-7662 to request a paper application.
Step 3

Pay the nonrefundable $25 application fee. If you submit the online application for admission, you will be prompted to pay via the Web. If you submit a paper application, please mail a check made payable to Austin Peay State Univeristy to

APSU Graduate Admissions
Box 4548
Clarksville, TN 37044

Step 4

Have three academic and/or professional contacts submit letters of reference to us on your behalf.

Step 5

Ask all your undergraduate and graduate institution(s) to mail us official transcripts reflecting all coursework you completed at the institutions.

Step 6

Complete entry tests and have scores submitted to us. Required tests are the following:

Management (M.S.M.) - Graduate Management Admission Test (GMAT)
M.A.T., M.A.Ed., M.Ed. - Graduate Record Examination (GRE) or Miller Analogies Test (MAT)
Music - No standardized entry test is required
Nursing - No standardized entry test is required
Professional Studies - Graduate Record Examination (GRE) is required unless you have five years of professional experience. If you have five years of professional experience, submit a portfolio in lieu of GRE scores.
All other programs - Graduate Record Examination (GRE)

Step 7
Submit any departmental admission items as required.
Step 8

If you are active duty military personnel or a veteran, submit the documents listed below.

AIR FORCE - Community College of the Air Force transcript or DD Form 295
ARMY - AARTS transcript or DD Form 295
NATIONAL GUARD - AARTS transcript or NGB Form 22
MARINE CORPS - ITSS MATMEP or SMART
RESERVES - Enlisted Contract 4-1 or 4-2 or DD Form 2586
NAVY - DD Form 295 or SMART
VETERANS (retired or discharged) - DD Form 214 Member Copy 4 with characterization of service
Transfer Center
Austin Peay State University welcomes students who have completed courses at another college or university. The APSU Transfer Center is here to assist you in completing the application and enrollment processes , including the required submission of transcripts from all colleges and universities attended, completion of any required testing, and registration in classes. Once you are admitted, you will be directed to the Transfer Online Orientation, which is the first step in registering for classes. We look forward to helping you enroll at Austin Peay! Please contact the Transfer Center anytime, at the information below. Begin Here!
Contacts
John Sammons
Transfer Coordinator
Chiquita Jackson
Graduate Assistant
Towanja Titington
Technical Clerk
Phone: (931) 221-7280
FAX: (931) 221-6168
Email: Transfer Center
Resources
Frequently Asked Questions
What academic programs are offered at Austin Peay?
With over 50 majors and 12 degree programs to choose from, Austin Peay has what you're looking for in an academic program.
What is there to do at APSU?
From campus organizations to cheering on the Govs and Lady Govs, APSU offers a ton of things to do .
How do I apply?
Get started with our online admissions application .
What are the admissions requirements?
See all admissions requirements and specifics .
How do I request my transcripts be sent to APSU?
You need to fill out our Transcript Request form .
How much does it cost to attend APSU?
From expanded in-state tuition rates to affordable out-of-state rates, for most students APSU's cost is within reach .
Is financial aid available?
Yes. APSU offers a variety of scholarships, grants and work study programs to help you pay for your education. The APSU Financial Aid code is 003478.
Can I receive a scholarship?
There are a ton of departmental, athletic and open scholarships available for you to apply.
How do I access my OneStop or APMail accounts?
AP OneStop is your online source for all things Austin Peay. Check your e-mail, pay tuition and fees, register for classes and much more.
What are immunizations and why do I need them?
State law requires proof of certain vaccinations be submitted before attending APSU.
Who is my Admissions Counselor?
APSU Admissions counselors "span the globe" to spread the word about Austin Peay. See when one is coming to your area.
How do I schedule a campus visit?
To schedule a guided campus tour or learn about the other available options, go to our Visit Campus area .
How do I request information be sent to me?
You can fill out our online Information Request form .
How do I apply for Housing?
Choose the residence hall that fits you best and apply online at the Office of Housing, Residence Life and Dining Services .
Virtual Tours
Extended Stay $39.95
Stay for 7 days or more and get a low rate of $39.95 per night on Standard Rooms. Refunds are at $69.99 per night adjustment. $20 per adult if more than 2 in a room.



Stay 2 get 3rd Free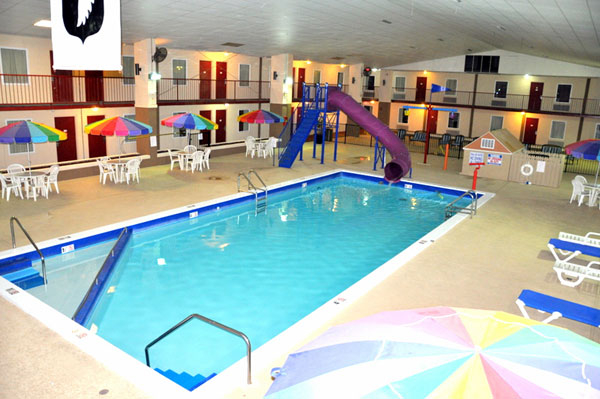 Pay for 2 nights and Stay for 3! Free night applies to least expensive night. Limited Time.



Midweek 8% off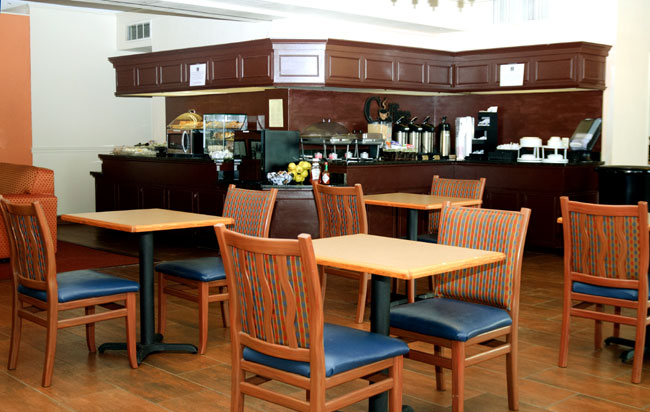 Stay midweek off each night with a 2 night minimum nights stay. Higher rates on weekends. Limited Time.